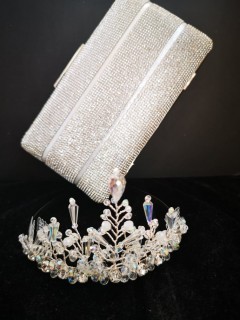 Luxury designer crowns for any hairstyle. Here you'll find stunningly beautiful handmade designer models suitable for weddings, balls, prom, birthdays, and other formal occasions and black-tie events. We believe that each woman is a queen and each queen deserves a crown.
Our designer, Rosie, can redesign each model in different colors, just for you, so that it is as close as possible to the hue of your outfit.
To create the crowns, we use silver and gold-plated jewelry wire, Swarovski crystals, natural pearls, First-Class glass pearls, Japanese crystal beads, and semi-precious stones. All models were designed by Rosie.
Showing 1 to 3 of 3 (1 Pages)