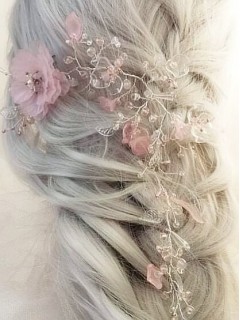 Designer hair accessories with Swarovski crystals and pearls - designed by Rosie. Hair accessories are suitable for all kinds of modern hairstyles with long hair, braiding around a bun or braid, as well as straight hair. Fastening them is done with hairpins.
Here you'll find hair accessories for different occasions - for example in white or ecru for a wedding, colored for a prom, as well as sets with other headpieces. They are suitable for weddings, proms, ball events, black-tie events, and all kinds of formal events.
We can tailor the colors and materials used for our pieces so it matches your outfit. If you'd like a different color or style than the ones you see listed, please contact us before ordering.
Showing 1 to 6 of 6 (1 Pages)