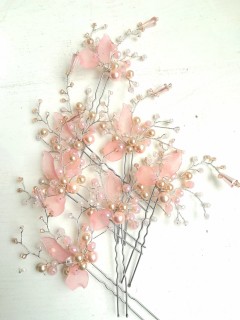 Hairpins with Swarovski crystals and pearls, designed by Rosie. They are suitable for long and short hair, as well as for different hairstyles with a bun or braids.
Hairpins can also be used to attach the bridal veil to the hairstyle. You can order different sets of hairpins (as a set of 3, 5, or 7).
Since each hair pin is made to order, you can ask for them to be made in a different color so they match your outfit.
If you'd like to request a different model or color than the ones you see listed, please contact us before ordering.

Showing 1 to 10 of 10 (1 Pages)